Iron Chlorosis Treatment
Iron Chlorosis Spikes for Trees and Shrubs
Lutz Iron Chlorosis Spikes treat Iron Chlorosis (Yellowing) in Pin Oak, White Oak, Rd Oak, Silver Maple, River Birch, Pines, Crabapple, Sweet Gum, Magnolia, Dogwood, Holly, Poplar, Juniper, Rhododendron, Azalea, and all other acid-loving Trees, Shrubs and Plants.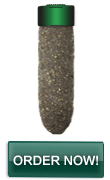 Iron is necessary for the formation of chlorophyll, which is responsible for the green color in plants and is a source of plant food and energy. When the amount of iron available to plants is inadequate for normal growth, leaves become pale green, yellow or white, eventually brown and die. The newest foliage is most severely affected by iron chlorosis. If not corrected severely affected plants may fail to grow, flower or fruit.
Lutz Iron Spikes are the ideal soil amendment for iron poor plants
Soil pH is most often a factor in Iron Chlorosis. Se we put a full 4.8% Sulfur in our Iron Chlorosis Spike, which creates an environment in the feeding area that frees up the iron, which is in a form readily available to the plant. The 5% Nitrogen also assists with the uptake of all nutrients, but most importantly the 16% iron sulfate we have in the Iron Chlorosis Spike.
Favorable color responses are often seen the 2nd growing season. Amending iron chlorotic soils is a process, so annual applications are recommended, semi-annual applications if iron deficiency is severe. Greatest color response is seen with the onset of new leaf.
"Just a note to let you know that after about 1 year remarkable improvement in our pin oak (I think, as it was bought as red oak). I tried a lot of 'juices' for about 2-3 years to help this tree out but it only got worse every spring/year and feared it would die. Nursery said there was nothing we could do for it - yea right - but your stuff did the trick. Cant wait to see how it looks next spring. Again thanks for the help."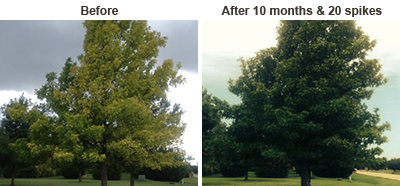 Clint
"Hong Kong Orchid Tree: this tree's leaves got yellower and lost them all. We used Lutz Iron Spikes after talking to Mr. Lutz. He said the new growth would be perfect. Voila!"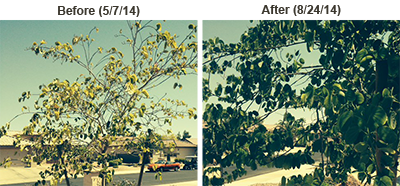 Suggested Coverage and Placement of Spikes
| Trunk Diameter | 4" | 6" | 8" | 10" | 12" | 15" |
| --- | --- | --- | --- | --- | --- | --- |
| Spikes Used* | 4 | 6 | 8 | 10 | 12 | 15 |
Measure the diameter of tree trunk 3 feet above ground level. Use one Spike for every inch of diameter. Place Spikes into moist soil, equally spaced around the dripline. (See illustration).
For acid-loving shrubs such as azalea and rhododendron, use one Spike for every 2 foot of plant height, evenly spaced at dripline, never closer than 2 feet (24 inches) from trunk.
Hammer Spikes to ground level using the plastic pounding caps. Remove cap and pound in at least two more inches. Heel the holes closed.
---
Spike Specifications
Iron Spike #30198
Total Iron (Fe)
16%
Total Nitrogen (N)
5%
5% Ammoniacal Nitrogen


Combined Sulfur (S)
4.8%
Available Phosphate (P205)
3%
Soluble Potassium (K20)
3%
Derived From: Ammonium Sulfate, Monoammonium phosphate, Potassium Sulfate and Iron Sulfate.
---
What our customers say about Lutz Iron Tablets for Chlorosis!
"Thank you for your card of August 31st regarding our experience with your Super Iron Chlorosis Tablets. We use the Tablets on Azaleas and Rhododendrons and have had excellent results using them. We especially like them because they last longer than other iron we have used in the past."
John Munnich
J & M Homes & Gardens
Port Jefferson Station, NY
"Our Super Iron Chlorosis Tablets are doing an outstanding job for us. We are using them on Red Oaks, Sweet Gum, and Pine trees; and on Azaleas, Photinis and Hollies as well."
Gary Lascalea
Grogreen
Plano, TX
"I wanted to write to you to tell you how pleased I am with the results I got from your Iron Chlorosis Tablets that I used on my pine trees. Your iron tablets provided green up and additional growth that I was unable to achieve with other soil amendments or fertilizers.

...I have approximately 100 pine trees on my property, and feel that the results I achieved with the iron tablets is a good indicator that your product works where others have failed.

I appreciate having been introduced to your fine product."
Perry O. Dye
Dye Designs
Denver, Colorado